Anushka Sharma Shared Pari's Poster. Fans make Virat Kohli In It & Hilarious Memes Flooded On Twitter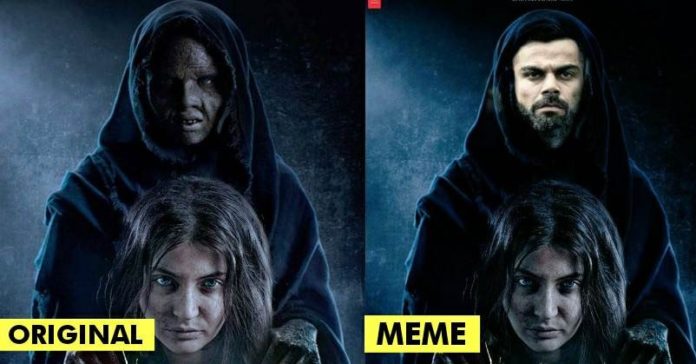 Virat Kohli and Anushka Sharma's marriage may have been one of the biggest affairs of 2017 but now they both are back to work. While Virat is leading the team on the tour of South Africa, Anushka has joined the crew of movie "Zero" in which she is working with Shah Rukh Khan and Katrina Kaif.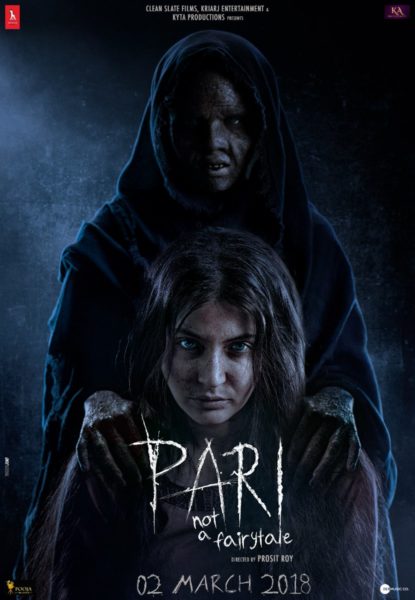 However, her first movie to release after marriage will be "Pari" which is being made under her home production Clean Slate Films and in this film, she is playing the role of a ghost. This will be her third flick which is being made for her home production after "NH10" and "Phillauri". She played a ghost in "Phillauri" and that too, a friendly one but it doesn't seem to be the case with "Pari".
Recently, Anushka Sharma shared the new poster of the new film on the Twitter with caption,
"#HoliWithPari
@OfficialCSFilms @paramspeak #PrernaaArora #KarneshSharma @kriarj #ArjunNKapoor @poojafilms"
#HoliWithPari @OfficialCSFilms @paramspeak #PrernaaArora #KarneshSharma @kriarj #ArjunNKapoor @poojafilms https://t.co/aMePVg992G pic.twitter.com/lTrXywsWSo

— Anushka Sharma (@AnushkaSharma) January 10, 2018
Just after the release of the poster, Twitter flooded with meme and jokes and some of them are damn hilarious!
Kohli with Pari:



This is #KohliWithPari ?

Not #HolyWithPari #Pari

P.C.- @ItsOnkarx pic.twitter.com/N3k2BPeYRA

— Illusion ? (@DishaDeclares) January 10, 2018
#HoliWithPari
That's not holi with pari…. It's #Kohli with pari. ? pic.twitter.com/RGYxzFbfjO

— Arpu? (@AptArpit) January 10, 2018
Virat Kohli after seeing the poster:
After watching anushka sharma in #Pari , Virat kohli is like.. pic.twitter.com/MmLISZDJnB

— crime master gogo (@vipul2777) January 10, 2018
OOPS! Virat kohli didn't see that COMING?
Anushka Sharma is scaring us as #Pari ?
RT if you agree. pic.twitter.com/jRl01psvI5

— Riya Mavi (@RiyaMavi007) January 10, 2018
So this is why India lost the match?
This poster is really scary
Anushka shown this poster to Virat Kohli before test match and he shown to entire team.

Result is in front of you all ???#Pari

— Kamaal R Khan- KRK (@KamalRKaan) January 10, 2018
LOL ?
AnushkaTo Virat After Marriage:-
Mughe Na Chooo Na #Pari Ho mai ??? ?

— Gaurav Sharma 🙂 (@Razzrockcool) January 10, 2018
Many people took a dig at Kohli:
Anushka's look in her upcoming movie pari is really so scary.

Kohli : Hahahahaha it's nothing bro.

— Vodka + Cyanide (@Riskiest_Poison) January 12, 2018
#Pari Fairytale story of a husband after marriage ?? pic.twitter.com/0ft0479pAv

— Nikhil C #IFBA2017 (@imbevda) January 11, 2018
#Pari Teaser: #AnushkaSharma's transformation into a witch will give you sleepless nights! https://t.co/A4xgyFCZzr pic.twitter.com/09EfAop99S

— dna After Hrs (@dnaAfterHrs) January 9, 2018
A jibe at girls:
When you call yourself papa ki #pari.
Pic1- what you think you are.
Pic2 – what you actually are. pic.twitter.com/4t36ZLEyEF

— where'smychappal (@bengalikudi) January 12, 2018
Sonia and Rahul Gandhi:



Congress releases their poster of #Pari and its more scarier than the one shared by Anushka Sharma pic.twitter.com/rPk8apQJp2

— Sarco Da Gama (@Sarcodagama) January 12, 2018
Directed by Prosit Roy, the film will also star Bengali actor Parambrata Chatterjee.
Are you waiting for "Pari" to release?